SUMMIT CRATERS FROM NORTH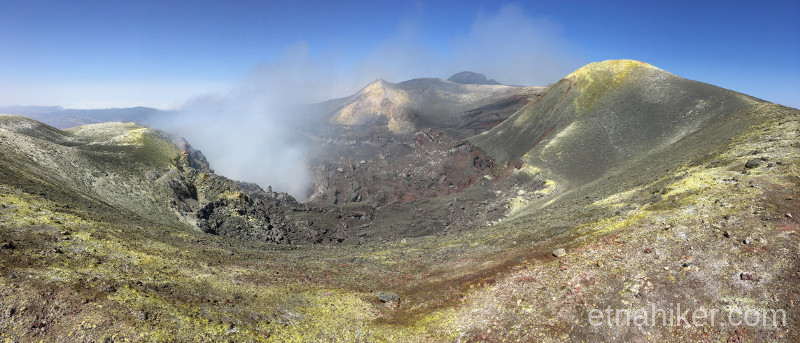 Surely the most interesting excursion of Etna, which will give you emotions and satisfaction, at the center of a truly unique natural setting.
Meeting and departure at the Piano Provenzana tourist station north side of Etna.
By off road Minibus 4x4, we reach Pizzi Deneri at 2920m, where the ascent to the craters begins. After about 1 hours and 30 minutes of climbing, we reach the rim of the Bocca Nuova crater at 3250m formed in 1968. After circulating the crater of the new mouth and the central crater begins the descent along easy sand slopes in the north direction that can easily lead us to the starting point.
Duration Excursion:approx. 4/5 hours.
Difference in altitude: +400 mt. - 1500 mt.
Price: 100,00 € per person
EQUIPMENT: Trousers, high trekking boots, sweatshirts, goggles, gore-tex jacket, bandana, gloves, hat, sack lunch, 2 lt water, hiking poles, sunscreen, sunglasses.
DIFFICULTY: The excursion to the Summit Craters does not present great difficulties, requires good physical condition and determination. Furthermore is always better to start with a suitable equipment for any sudden changes in weather. The excursion is absolutely prohibited to people with cardiovascular problem.